Total Fabric Interior Clean Collection
The Total Fabric Interior Clean Collection is the ideal product selection for a detailing lover who has fabric seats and wants to thoroughly clean their interior and protect their fabrics whilst refreshing the vehicle's scent for weeks to come.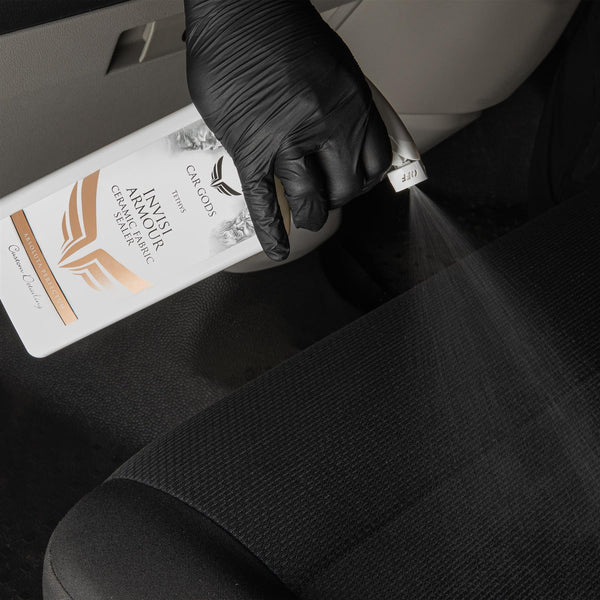 What's Included
Interior Detailer 500ml
Glass Perfection 500ml
Stain Eliminator 500ml
Fabric Reviver 500ml
Invisi Armour Ceramic Fabric Sealer 500ml
Air-Con Purifier 150ml
Odour Annihilator 70g
Microfibre Drying Cloth
Microfibre Cloth 40x40cm
Microfibre Cloth 60x60cm

How to Use
Use Interior Detailer to remove dirt and grease easily and effectively from dashboards, windows and plastic trim, whilst leaving a pleasantly refreshing apple fragrance.

For best results, use a Microfibre Cloth 40x40cm to wipe over surfaces after spraying onto the surface you are cleaning. Alternatively, the cloth can be sprayed on then wiped over to avoid overspray, when cleaning intricate areas.

Glass Perfection is a quick action, alcohol and VOC-free glass cleaner designed to remove dirt, grease, tobacco haze, and finger marks off the glass surface whether inside or outside all the while leaving a streak-free finish.

For best results, use with the Microfibre Drying Cloth to polish the surface. Alternatively, spray directly onto the cloth then wipe over when cleaning smaller glass surfaces or mirrors.

Use Stain Eliminator to remove stubborn stains, dirt and grime easily and effectively from all seats, roof lining and trim panels, whilst masking stale odours caused by food, tobacco and pets with a fresh linen fragrance.

For best results, use one side of a Microfibre Cloth 60x60cm to agitate and remove the toughest stains.

Then utilise Fabric Reviver to easily clean and restore your interior upholstery. Its active detergents, cleaning agents, and fresheners will provide a fresher look to your fabric surfaces.

For best results, use the other side of the Microfibre Cloth 60x60cm to apply multi-directional pressure over the fabric surface and ensure the whole area has been thoroughly cleaned.

Finish your fabric care with Invisi Armour Ceramic Fabric Sealer which uses SiO2 technology to create a ceramic protective effect on the fabric surface. The super-hydrophobic protective layer repels liquids and dirt, ensuring your interior fabrics remain cleaner for longer.

Air-Con Purifier is specially formulated to eliminate odour-causing bacteria and harmful viruses that build up within your vehicle's air-con system to ensure the air in your car is fresh and clean. Designed with a lockdown mechanism that ensures continuous and even dispensing to sanitise your entire vehicle within 10 minutes.

Complete your interior detail with Odour Annihilator Air Freshener which actively seeks and eliminates unpleasant odours at the source, preventing them from reoccurring over time. The air freshening and odour-eliminating synergy ensure that odours are destroyed and replaced with a refreshing note of wild oak and hints of bergamot and lavender that lasts for weeks.