Pandora's Box Advent Calendar
24 gifts bestowed on humankind by the Gods of Mount Olympus.
Whether you're looking for the perfect Christmas gift for the detailer in your life or looking to give yourself an exciting countdown to Christmas, our unique advent calendar has you covered.
Instill the curiosity of Pandora's box, releasing 24 specially selected detailing favourites and exclusive accessories chosen by the Gods. This calendar is sure to put a smile on any car enthusiast's face, a shine on their vehicle, and their detailing supplies stocked up.
8 Detailing Products
5 Detailing Accessories
11 Exclusive Pieces of Car Gods Merchandise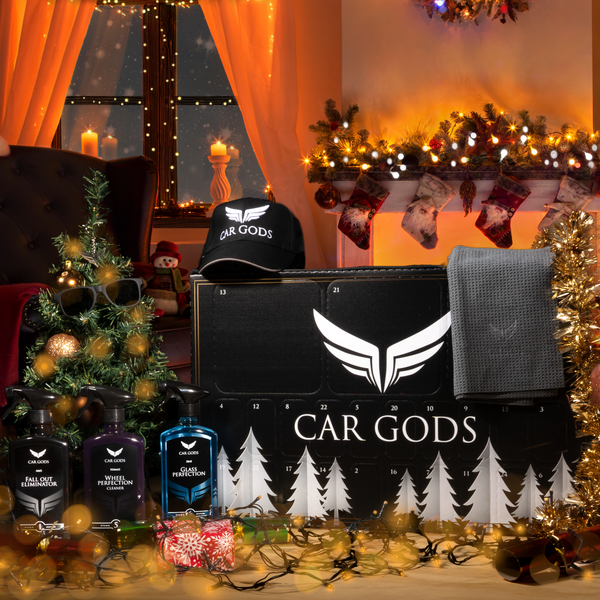 What's Included
The Pandora's Box Advent Calendar Includes:

Car Boot Organiser
Car Gods Embroidered Cap
Car Gods Metal Keyring
Car Gods Snood
Car Gods Winter Gloves – touch screen compatible
Cold Drinks Holder
Drawstring Bag
Edgeless Microfibre Buffing Cloth – 40cm x 40cm
Fallout Eliminator – 500ml
Glass Cleaner – 500ml
Hand Polish Applicator
Handy Credit Card Sized Multi-Tool
Hip Flask
Holy Water – 500ml
Interior Detailer – 500ml
Pallas Crystal Shield – 250ml
Pure Shampoo – 500ml
Shot Glasses
Sunglasses
Tyre Pigmented Tyre Serum – 500ml
Vent and Interior Cleaning Brush
Waffle Drying Towel – 40cm x 40cm
Waffle Drying Towel – 60cm x 60cm
Wheel Cleaner – 500ml

How to Use
Countdown to Christmas each day by opening one of Pandora's doors to unveil a new gift with the Car Gods Advent Calendar!

From our specialist car detailing formulated products to car valeting accessories and even Car Gods branded merchandise. The perfect gifts for car lovers, detailing freaks, and valeting enthusiasts are waiting behind every door.