Give your fabric soft top the divine touch with our soft top perfection bundle. Included is the soft top cleaner which is great at removing bird lime, dirt, and moss whilst completely refreshing the convertible's hood. Alongside the cleaner is our water seal spray which is quick and easy to apply to reproof, protect and preserve the cabriolet soft top, extending its life and keeping it looking cleaner for longer. We have also included the Wonder Wall Tyre Scrubber which works as a great agitator for fabric to help scrub out any grime or dirt. Our cleaner and water sealant product combination will revitalize and protect any convertible soft top, making it look like it's fresh out of the showroom.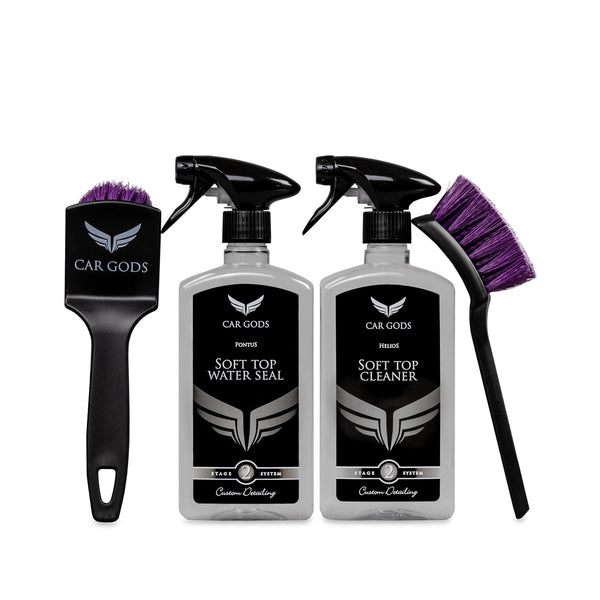 Key benefits
How to use
Soft Top Cleaner - 500ml :

1. Ensure your hood is free from loose dirt, leaves, and debris.
2. Shake the bottle well
3. Spray Helios onto a small area at a time
4. Allow Helios to sit and soak into the soft top, then agitate with an upholstery brush or sponge to lift the dirt off carefully
5. Rinse the area before moving on to the next area to be cleaned
6. Once cleaning is complete, rinse the whole area lightly with a hose (do not use any high-pressure devices)
7. Clean vehicle as normal.

Soft Top Water Seal - 500ml :

1. Ensure the hood has been cleaned thoroughly and dried before application.
2 Shake bottle well and turn trigger nozzle to "on"
3. Test the product on a small, inconspicuous area first to check colour fastness of the fabric.
4. Liberally spray Pontus over the cleaned, dry areas of the hood, applying evenly over the whole surface.
5. When applied, allow to dry thoroughly and protect from damp, dew, etc until the hood is completely dry.
6. Turn the trigger nozzle to "off" position for storage.

Note: Take care to avoid overspray on glass and plastic/other non-glass windows or paintwork. In case of overspray, wipe off immediately. Store the container in an upright position and secure it when transported.