Heavy Cutting Compound Pad
Perfectly restore your paintwork with our foam heavy-cutting compound pad, suitable for dual-action polishing machines. Named after Theia, the goddess of divine light and sight, she is the perfect inspiration for our cutting compound pads that are ideal for all types of paintwork. 
This cutting pad efficiently distributes compound abrasives across thick oxidized paintwork to restore colour, remove deep scratches and holograms in your paintwork. Suitably aggressive on factory clear coats, our heavy-cut pad is designed to optimally deliver heat and cutting compound solution to remove highly visible imperfections and leave your paintwork ready for refinement, This green cutting pad is colour coded to match our 3K Sectus cutting compound so you can easily identify the correct pad for heavy cutting.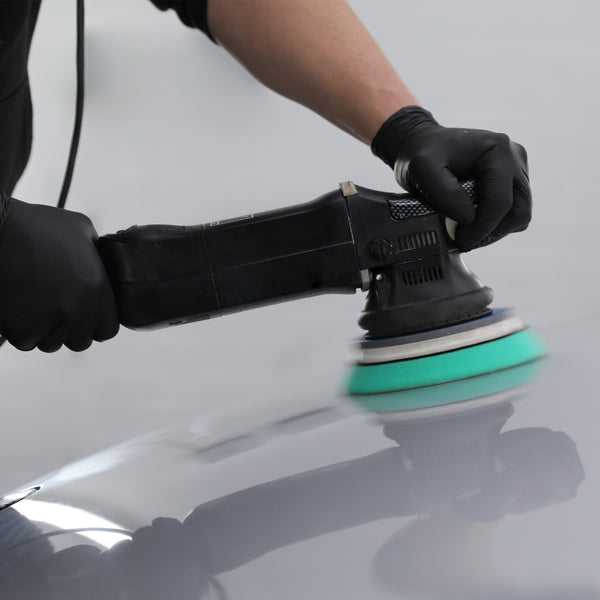 Key benefits
• Specifically structured for the first step of polishing and 5" polishing machines
• Offers a heavy cut and efficiency in removing visible paint imperfections
• Removes deep scratches, sanding marks, thick oxidation, swirls, and water spots
• Colour-coded green to be used alongside our Sectus 3K Compound
• Use alongside Sectus 3K Compound to prepare your paintwork for the next stage of polishing

How to use
1. Ensure the vehicle has been cleaned and dried thoroughly. For best results, use Car Gods Panel Spray to prime the surface.
2. Shake your bottle of Car Gods Sectus 3K Compound well.
3. Apply 3-4 pea-sized amounts of compound to your Heavy Cut Compound pad. Add more if using the pad for the first time, to help lubricate the pad.
4. Working on one small section at a time, start polishing at a low speed before increasing the speed, work the polish on the paint until the desired results have been achieved, then decrease the speed to finish until the compound is fully clear.
5. Buff any haze off with a clean, dry microfibre cloth before moving on to the next panel.
6. To clean the pad, hand wash it with warm soapy water, rinsing thoroughly before laying it to dry.