Snow Foam 2.5L And Cannon Bundle
Triton Arctic Storm Snow Foam 2.5L & 1L Snow Foam Cannon
Get everything you need to be snow foam ready with our orange-scented snow foam car shampoo and dial adjustable snow foam cannon. A snow foam cannon covers your car in snow foam in a flash, reducing the time and effort it takes to completely snow foam your vehicle and best of all eliminates the risk of causing swirl marks when contact washing. Our dilutable snow foam will loosen dirt and surface contaminants ready to be rinsed away, leaving your car prepared for the contact wash stage of your detail.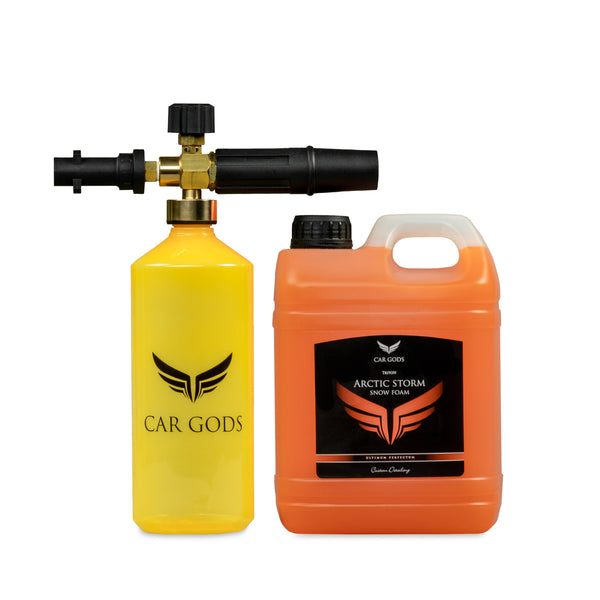 What's Included
Arctic Storm Snow Foam - 2.5L
Snow Foam Cannon - 1L
How to Use
1. Shake the bottle well
2. Pour 100ml of Triton into a 1L snow foam lance bottle and fill with water (the more product you add, the denser the foam)
3. Attach the venturi system to the snow foam lance
4. Attach the high-pressure power hose to the venturi system
5. Spray onto the surface of your vehicle working from top to bottom
6. Wait for 5-10 minutes to let the foam settle
7. Rinse the vehicle with a pressure washer

For best results: Wash the vehicle as normal with Car Gods Proteus Pure Shampoo for a sparkling shine.