Nitrox Steel Weld - 500ml
Permanently repair and seal leaks in head gaskets, cylinder heads, freeze plugs, heater cores, and even engine blocks! The advanced formula quickly gets to work sealing leaks in both steel and aluminium parts throughout your engine system Nitrox steel weld works with ALL types of anti-freeze in the coolant system, saving you from flushing your system. Not only that, Nitrox Steel Weld stays active in your coolant system, ready to plug any future leaks or cracks and the anti-rust formula helps prevent long-term damage and wear to your radiator.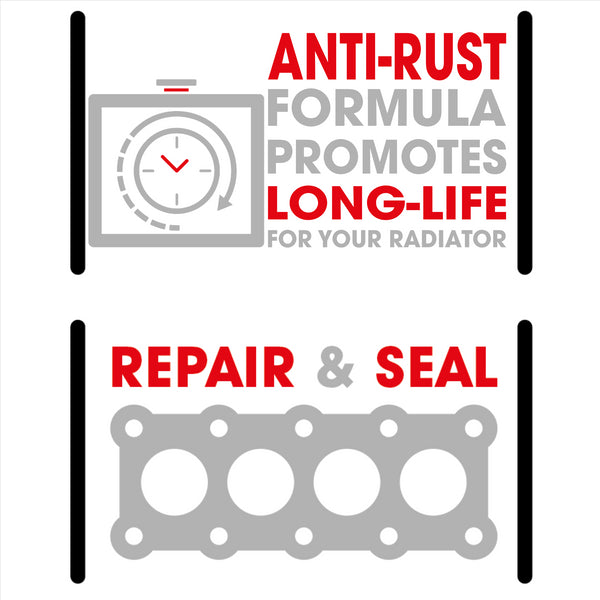 Key benefits
• PERMANENTLY REPAIR & SEAL LEAKS: No need to keep worrying about those leaks, Steel Weld permanently seals and repairs for most leaks you would find; radiators, head gaskets and cylinder heads etc.
• QUICK REPAIR: No tools are needed with this formula. Simply add straight into the coolant system.
• NO NEED TO FLUSH: This powerful formula mixes with ALL anti-freeze and can be added straight into the coolant system - saving you from flushing your system.
• LONG TERM PREVENTION: Not only does Steel Weld fix your leaks, it also stays working and is ready to repair any future leaks that would have happened in the future.
• PROLONG YOUR RADIATOR LIFESPAN: Contains anti-rust inhibitors to help prolong the life of radiators.
How to use
Shake the bottle for 1 minute and slowly pour Nitrox® Steel Weld™ into the radiator or expansion tank - See below for usage details. You can do this when the cooling system is hot or cold, if hot please use extreme caution and beware of any pressure when removing the cap. Once added to your system, run the engine for a few minutes until it reaches operating temperature and allow the sealer to circulate around the cooling system and seal any leaks.