Dark Blue Colour Restorer Scratch Remover - 500ml
Iris, the personification of the rainbow
Summon forth Iris, the Goddess of Rainbows, to provide an easy way to clean, restore and wax your dark blue vehicle. Iris is a 3 in 1 treatment designed to restore lack lustre paintwork in one simple application. Iris' advanced polymers, pigmented resins and wax technology provides a straightforward approach to removing surface oxidation, blemishes and minor scratches leaving a divine deep gloss shine that lasts.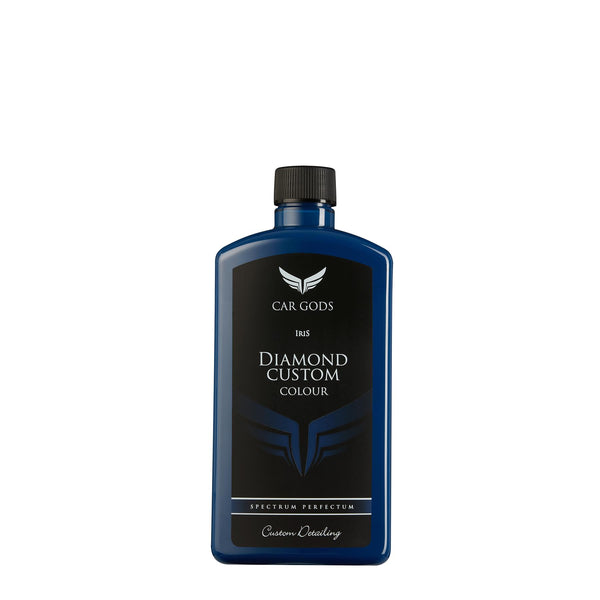 Key benefits
• Suitable for use on metallic paintworks
• Contains advanced polymers and pigmented resins
• 3 in 1 application - cleans, protects, restores
• Adds a silicone and carnauba wax layer on the surface to protect
• Leaves a professional, detailed, deep gloss shine
How to use
1. Ensure the vehicle has been cleaned and dried thoroughly
2. Shake the bottle well
3. Working on one panel at a time, apply Iris to a clean, damp microfibre cloth and apply to the panel using circular, overlapping motions
4. Allow to haze and buff away with a clean cloth
5. Repeat application as required
Please note: Car Gods Iris Diamond Custom Colour should not be used where surface lacquer or coating has crazed. Choose the closest shade to your car colour. Always test on a small inconspicuous area before using on a large section. Prevent contact with trim.

Customer Reviews
Write a Review
Ask a Question
07/11/2022
Unbelievable results thought my new Aston Martin needed a stone chip repaint.put this on and boom looking perfect.Use gloves with dark colours .
06/06/2021
Alan D.

United Kingdom
The new polish
I see car gods in an advert on YouTube so thought I'd give it a go great product great shine easy to use & a great price
06/02/2021
Lee D.

United Kingdom
Bloody good polish
When I saw this I immediately thought of the old "colour magic" polish you got years ago. Similar idea but this is a lot easier to go on and definitely a lot easier to buff off. Leaves a nice sharp glossy shine to your paintwork, have to wait and see how long it lasts for between applications but so far we'll impressed .
Just the Ticket
I own a dark blue GRP boat and these darker hulls do bloom over the summer seasons due to UV and salt water splashes. Everything purchased for boats is expensive so I tried this car polish - Brilliant. What I started with was a very dull hull but having put on two coats, the deep shine had returned.