Clay Bar & Lubricant Detailing Kit - 500ml
Morpheus, the God of Dreams
Morpheus Clay Bar Kit bestows your vehicle with a smooth glass bodywork that is blessed by the Gods. Claying is often overlooked by the average car owner, but to those who have discovered the effectiveness and Godlike appearance that follows, Claying becomes an essential part of every detailer's cleaning process.
The specially blended lubricant and Clay Bar materials within Morpheus, enables the user to remove inconspicuous surface contaminants whilst leaving your vehicle's bodywork sensationally smooth and clean, like something out of a dream. It is recommended to use the Clay Bar twice a year to remove stubborn contaminants that get stuck in the paintwork whilst also maintaining that off the line finish.
It's suitable for all paintwork and most smooth, hard surfaces, including exterior glass and alloy wheels. It is not suitable for use on clear plastics such as headlight lenses as fogging may be caused.
Click here for more in-depth information on using a clay bar.
Kit contains 500ml of Clay Bar Lubricant and 100g of Detailing Clay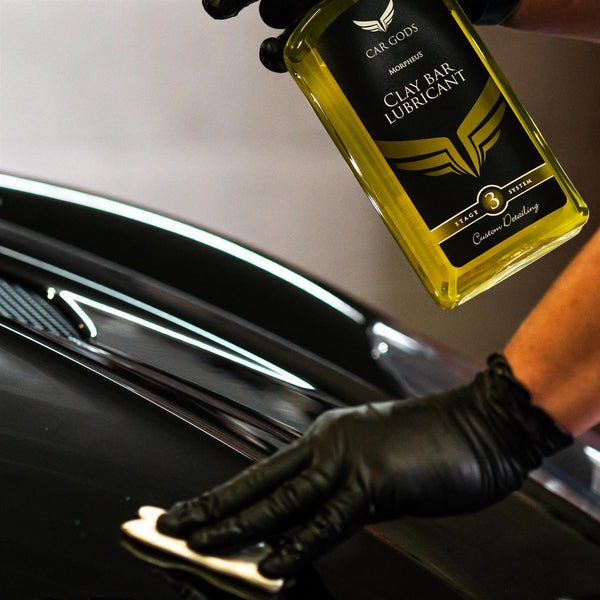 Key benefits
• Compatible with vehicle paintwork.
• Specially blended materials within Morpheus helps remove inconspicuous surface contaminants.
• Perfect preparation for compound, wax and polish.
• Makes polishing stage more efficient and the results more refined.
• Improves the feel and quality of the vehicle paintwork.
How to use
1. Ensure the vehicle has been cleaned thoroughly
2. Tear a piece of clay from the clay bar
3. Knead the clay bar until soft. Mold into a flat disc-like shape
4. Shake the lubricant bottle well
5. Spray a generous layer of the lubricant onto the surface that will be worked on (we recommend 30cm x 30cm areas at a time)
6. Ensure the paint surface is lubricated at all times whilst using the clay bar
7. Glide the clay bar over the surface in straight lines, slowly treating the surface until smooth to the touch
8. Wipe the whole panel dry with a microfibre cloth after treatment to check if any spots need re-treating