We know that keeping black cars looking clean is a continuous struggle, that's why we have created the Car Gods Ultimate Black Ceramic Kit. Featuring our Eternal Black Ceramic SiO2 Wax alongside our customer favourites such as Fall Out Eliminator and Arctic Storm Snow Foam. This is everything you need to prep, wash, and keep your car protected for months to come.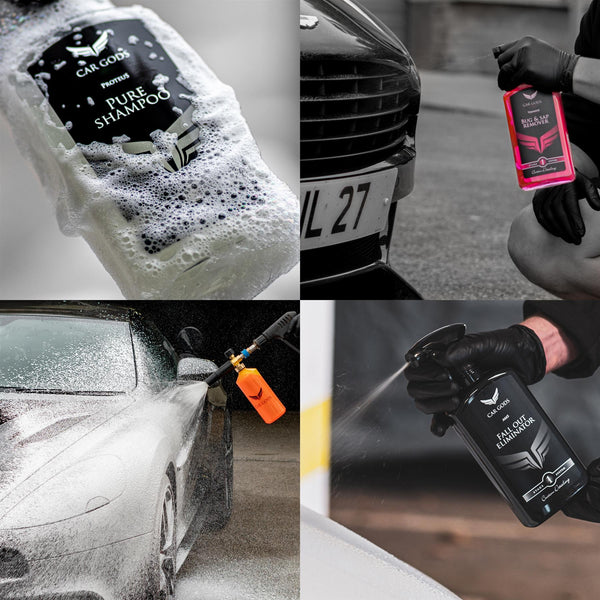 What's Included
Car Gods Exclusive Backpack
Ceramic Wax SiO2 Hybrid 500ml
Pure Shampoo 500ml
Fall Out Eliminator 500ml
Bug & Sap Remover 500ml
Tar Dissolver 500ml
Arctic Storm Snow Foam 500ml
Almighty Power Pre-Wash 1L
Edgeless Microfibre Cloth (60x60cm)
Microfibre Wash Mitt
How to Use
Applying a true Ceramic Coating to your vehicle takes a lot of preparation and paintwork correction to have a successful application. With this kit, you get the benefits of easily adding ceramic protection to your vehicle paintwork without having to do hours of preparation for your vehicle.

This kit provides you with the main essential decontamination products as well as the Ceramic Wax SiO2 Hybrid coating to protect your paintwork.

Almighty Power Pre-Wash easily and quickly removes contaminants from your paintwork such as road grime and loose dirt to reduce the risk of swirl marks prior to contact washing the vehicle. Following that with a thick layer of Arctic Storm Snow Foam clings to your paintwork and lifts off more stubborn dirt from your paintwork. Use Bug & Sap Remover to eliminate sticky organic contaminants such as dead bugs, tree sap, and bird lime from your paint and Tar Dissolver on any tar spots to easily remove stubborn Tar Deposits. Tackle those invisible contaminants that get embedded in your paintwork using Fall Out Eliminator and watch the formulation turn a deep purple colour as it dissolves embedded iron deposits from your paintwork.

Now you can confidently grab your bottle of Pure Shampoo and the Wash Mitt to safely contact wash your vehicle and leave a freshly cleaned surface. Be sure to follow the 2-Bucket Method when contact washing your vehicle to avoid swirl marks. Now that the vehicle has been thoroughly washed and dried, apply the Ceramic SiO2 Hybrid Wax using the Microfibre cloth provided to boost the depth of colour in your paintwork and add a long-lasting hydrophobic ceramic protection over the paintwork.