Black Ceramic Wax - 500ml
Summon forth Eros, God of Love and Desire, wielder of the Eternal Black

The specially formulated black pigmented Ceramic coating boasts an advanced Hybrid SiO2 and Wax synergy to produce a superior deep black finish. The hybrid system provides a protective shield between your vehicle's paintwork and the elements, making it easier to remove dirt and other deposits from treated surfaces.
Surfaces are enhanced with intense water beading, enriched colour pigmentation, a deep glossy finish, and a silky feel, free from drag and resistance. Offering 3 months of protection and shine.
For the complete Ceramic Wax experience, check out our Ultimate Black Ceramic Kit. It contains everything you need to prep, wash and coat your vehicle.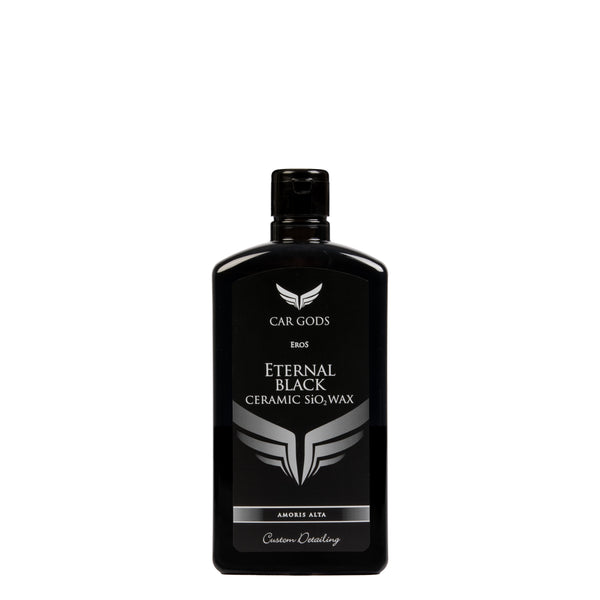 Key benefits
• Hybrid SiO2 Ceramic Protection
• Pigmented Formula Provides a Dark Black Finish
• Gives Your Paintwork a Deep Glossy Look
• Intense Water Beading, that Repels Dirt
• Long-Lasting Hydrophobic Protection, for up to 3 Months
How to use
1. Ensure all surfaces have been cleaned thoroughly and dried before application.
2. Shake the bottle well before use.
3. Working on one panel at a time. Apply Eternal Black onto a clean microfibre cloth or applicator pad and apply to the bodywork using a circular, overlapping motion.
4. Buff to a deep high gloss shine with a clean and dry microfibre cloth.
5. Allow to cure for a minimum of 2 hours.

For best results allow to cure for 2 hours then wash & dry the vehicle and apply a second coat of Eternal Black Ceramic Wax.