Sectus 12K Fine Finish Cutting Compound - 1L
Summon Asclepius, the God of Medicine, to heal and restore your paintwork from imperfections.
Car Gods Sectus 12K Compound is a fine-cutting compound specially designed for efficiently restoring vehicle paintwork with light marks for a high gloss finish on paintwork. Recommended as the third and final compound to use in our guide for an extra gloss finish to your paintwork. Perfect after use of Car Gods Sectus 9K Compound. The low dusting, splatter, and residue from this compound ensure that cleaning time is minimal, allowing you to continue with the next step of polishing. This silicone-free compound contains diminishing abrasives, lubricants, and coolants, all of which help to provide the perfect finish, as marks will not be left behind after use. Formulated for use alongside a dual action polisher.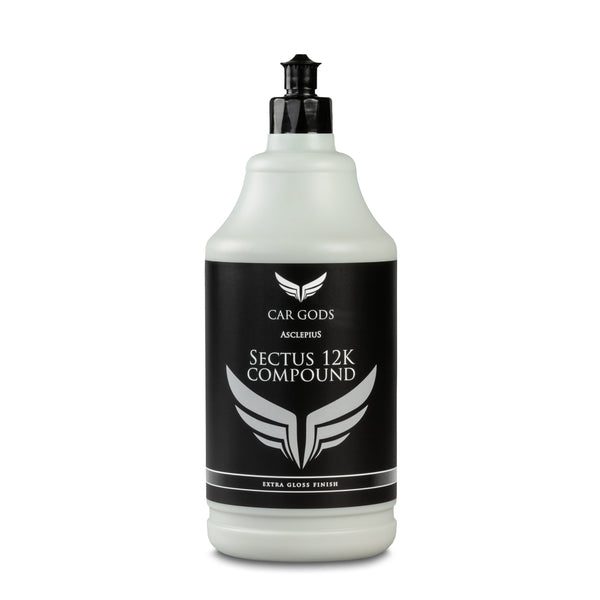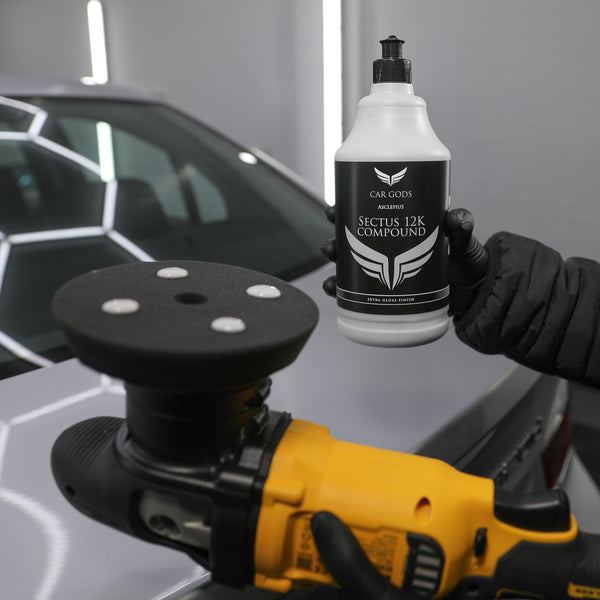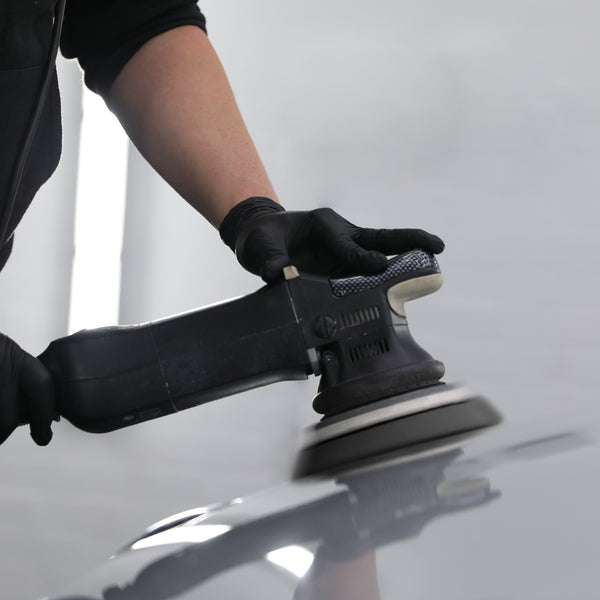 Key benefits
• EXTRA GLOSS FINISH: Efficiently restores lightly marked paintwork
• PAINTWORK CORRECTION: Removes light scratches and swirls to reveal a glossy finish
• PERFECT FINISH: Contains diminishing abrasives, lubricants, and coolants, all of which help to provide a professional finish
• NO MESS: Low dusting, no splatter, and no residue ensures a quick and easy cleanup
• NO BLEMISHES: The specialised formulation is silicone free so white marks and blemishes will not appear.
How to use
1. Ensure the vehicle has been cleaned and dried thoroughly.
2. For best results, use Car Gods Panel Spray to prime the surface.
3. Shake the bottle well.
4. Apply 3-4 pea-sized amounts of compound to your Fine Cut Compound pad. Add more if using the pad for the first time, to help lubricate the pad.
5. Working on one small section at a time, start polishing at a low speed before increasing the speed, then decreasing the speed to finish until the compound is fully clear.
6. Buff any haze off with a clean, dry microfibre cloth before moving on to the next section.

Note: Do not use in hot conditions or in direct sunlight. Test on an inconspicuous area first. Store in an upright position and secure when transported.