Multi-Purpose Cleaner Bundle
A must-have all-purpose cleaner bundle for every car detailer! Our MP100+ Multi-purpose cleaner is a powerful degreasing and cleaning agent that breaks down difficult deposits of grime. As a highly dilutable cleaner, this bundle includes a 1L pro bottle with a chemical-resistant trigger so you can get started detailing right away. This bundle also includes our collection of firm and feather detailing brushes, as well as a handy microfibre cloth to give you everything you need to detail your car with this powerful all-purpose cleaner.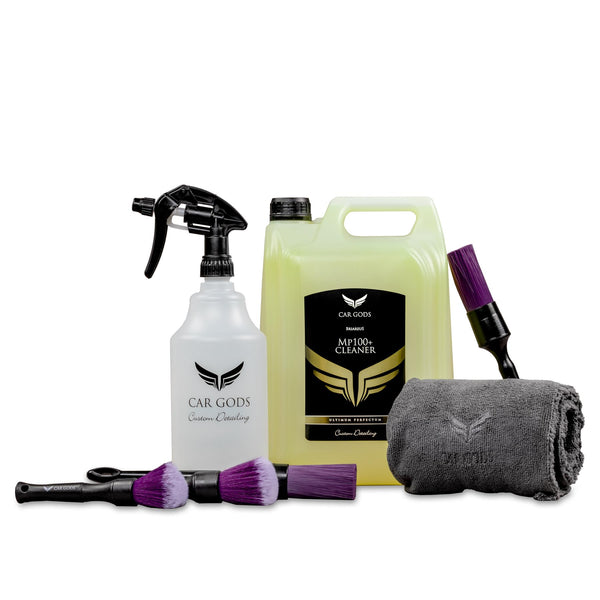 What's Included
MP 100+ Multi-Purpose Cleaner - 5L
Professional Trigger Bottle - 1L
Feathertip Detailing Brushes
Firm Detailing Brushes
Edgeless Microfibre Cloth
How to Use
1. Pour contents into a trigger bottle and close the screw cap after use.
2. Dilute 10:1 for heavy-duty cleaning. Dilute 50:1 for light-duty cleaning.
3. Spray onto the chosen area.
4. Agitate as necessary.
5. Rinse the area thoroughly ensuring all product has been removed

Note: If unsure, always test on an inconspicuous area before use. In case of overspray, wipe off immediately. Store the container in an upright position and secure it when transported.