The Car Gods Metal Product Holder is the perfect storage solution for your favourite Car Gods Products. Made from 1.5mm thick sheet metal with laser cut branding, the hanger will hold 8 products and includes handy slots to hang your cloths and towels. To kick you off, the Ultimate Detailers kit includes 8 of our best sellers, alongside 3 wash accessories – the ideal selection to achieve Ultimum Perfectum!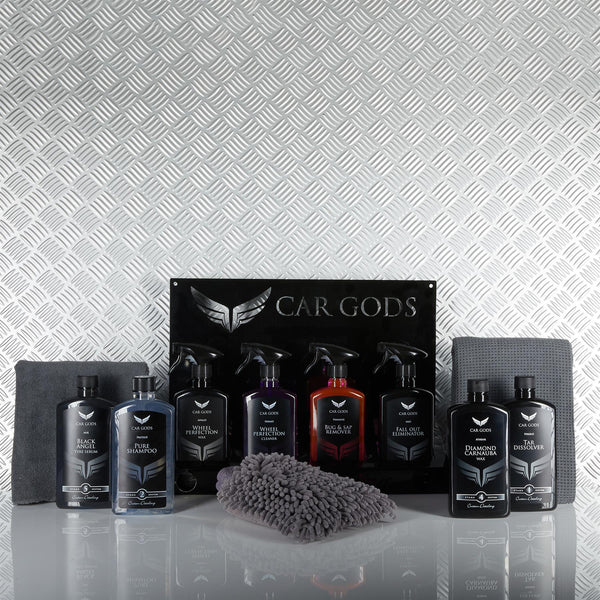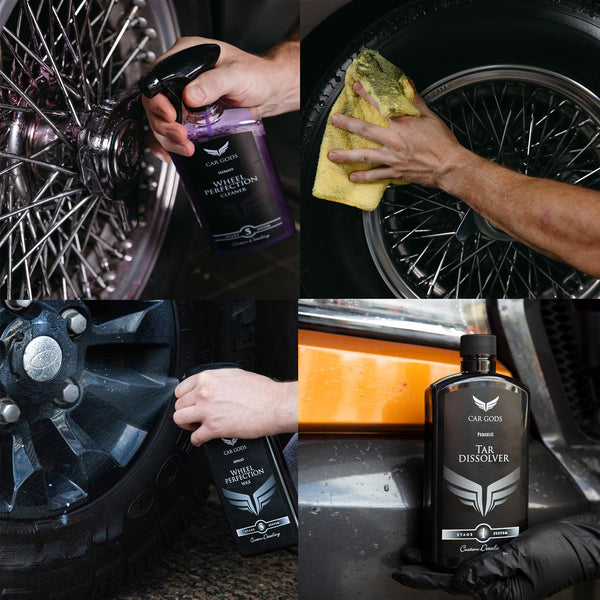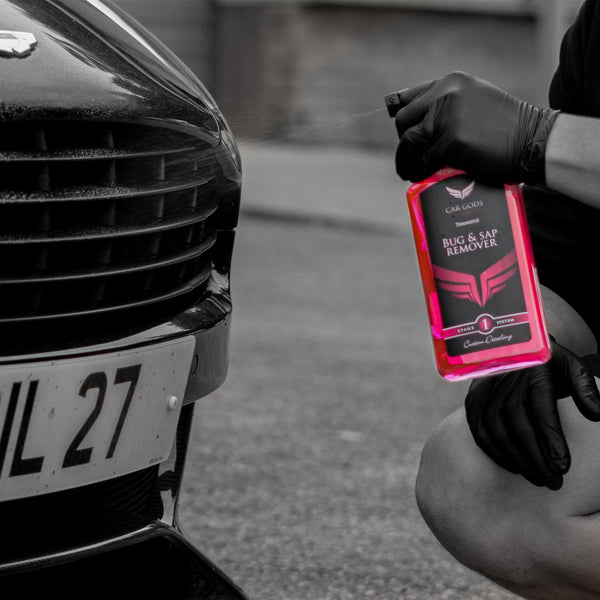 What's Included
Car Gods Exclusive Metal Product Holder (47cm W x 38cm H) Fittings included
Pure Shampoo 500ml
Fall Out Eliminator 500ml
Bug & Sap Remover 500ml
Wheel Perfection Cleaner 500ml
Black Angel Tyre Serum 500ml
Wheel Perfection Wax 500ml
Tar Dissolver 500ml
Diamond Carnauba Wax 500ml
Edgeless Microfibre Cloth (60x60cm)
Edgeless Microfibre Drying Towel (60x60cm)
Microfibre Wash Mitt
How to Use
Wheel Perfection Cleaner is a colour active, fast-acting, powerful, yet acid-free wheel cleaner to ensure that it can be used on all types of wheels without causing any damage. Simply spray all over the wheel surface and allow the formulation to dissolve caked-on brake dust from your wheels and rinse off.

Use Bug & Sap Remover to eliminate sticky organic contaminants such as dead bugs, tree sap, and bird lime from your paint and Tar Dissolver on any tar spots to easily remove stubborn Tar Deposits. Tackle those invisible contaminants that get embedded in your paintwork using Fall Out Eliminator and watch the formulation turn a deep purple colour as it dissolves embedded iron deposits from your paintwork.

Now you can confidently grab your bottle of Pure Shampoo and the Wash Mitt to safely contact wash your vehicle and leave a freshly cleaned surface. Be sure to follow the 2-Bucket Method when contact washing your vehicle to avoid swirl marks.

Diamond Carnauba Wax utilises the Carnauba wax and silicone to achieve a deep glossy look to the freshly cleaned paintwork whilst adding a hydrophobic protective layer that repels dirt and water. Formulated with fine minerals to lightly and safely clean the surface so that the paintwork is smoother and reflects light better.

To protect and enhance your freshly cleaned wheels and tyres. The kit contains Black Angel Tyre Serum and Wheel Perfection Wax. Wheel Perfection Wax is an instant wheel sealant designed to protect your wheels against dirt, grime, and the build-up of brake dust. Black Angel Tyre Serum is designed to condition and offer long-lasting protection over your tyres. Whilst enhancing the overall look of your entire vehicle.

Use the Car Gods Metal Product Holder for a quick and convenient way to store your favorite Car Gods products so you can easily access them every time you're detailing your vehicle.